While we are mindful of the seasonal weakness that is typical this time of year and know that low volatility is making investors anxious, I wouldn't want to be on the wrong side of this trade. The trend of the market is still positive and I'd much rather be long. Pullbacks are generally buyable when the credit environment is as well contained as it is today. The leadership reversal we've witnessed over the last few weeks is risk seeking which is another supportive sign.
Source: Pacific Global Investment Management Company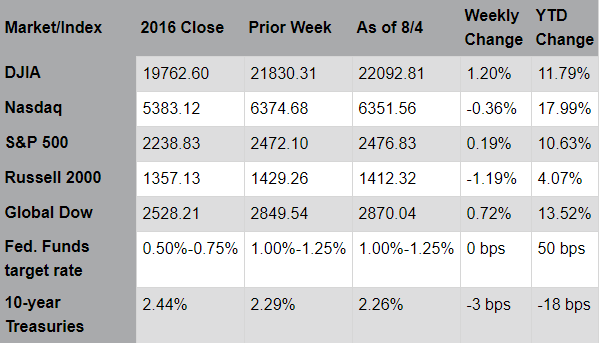 Chart reflects price changes, not total return. Because it does not include dividends or splits, it should not be used to benchmark performance of specific investments.
Market Week
The longevity of this bull market is one of the characteristics that people point to as a source of concern. Although the S&P did not decline 20%, between mid-2014 and mid-2016, most global markets experienced a bear market and nearly 70% of U.S. stocks were down by 20% or more during that period. This should buy us some time.
With interest rates off of their historic lows and emerging signs of global central bank policy beginning to change, lower correlations and greater dispersion from equity and debt securities are likely ahead. The correlations among equities have been in steady decline for the better part of the last 12 months. Negative/zero rates have kept a lot of weak players on the field and the normalization of rates should help to separate the winners from the losers, creating opportunities for outperformance to stock pickers. Ultimately, we believe that inflation will be the catalyst that starts the trend away from passive to active management.
Markets continued to fluctuate last week as mixed economic data offset positive earnings results. The Dow Jones Industrial Average, once again, outperformed the major indices; Apple (+4.6%) and 3M (+4.0%), which together account for more than 11% of the Dow, led the gains. Large caps outpaced mid-cap and small cap stocks as market sentiment remained cautious. Financials were the strongest performing sector, with investors responding to comments from Federal Reserve officials that "balance sheet normalization" would likely commence in the second half of the year; the reduction of the Fed's bond holdings should produce upward pressure on interest rates. Oil prices remained near $50 per barrel; even so, Energy lagged as investors assess the rapidly shifting dynamic between OPEC, shale oil producers, and large offshore projects (more on this below). Economic data indicated a slight downshift in domestic activity: July's auto sales decreased 7.1% year-over-year; and, the ISM manufacturing and services data indicated slower rates of expansion. Job growth, though, remains ahead of the six-month average; all of the major world economies are growing; and corporate earnings are improving. The decline in the dollar (which has lost roughly 10% against a basket of currencies since early January) could help mitigate softening domestic demand. The more favorable exchange rate effectively lowers the price of exports, aids tourism-related spending in the U.S., and benefits the earnings results of companies with foreign subsidiaries.
Oil prices may remain in the range of $40 to $60 per barrel for some time. At these prices, major oil producers will likely include both shale oil and deepwater wells in their long-term strategies; shale oil projects respond quickly to changes in demand while deepwater wells often produce over several decades. Technological improvements and operational efficiencies have reduced deepwater drilling costs; several of offshore projects can generate attractive returns as low as $40 per barrel. Indeed, this week, multiple offshore oil drilling contractors reported that bidding activity is starting to improve, albeit slowly. Looking ahead, we expect that Energy companies, which have materially underperformed, should provide significant returns as projects are announced and investor sentiment improves.
Earnings season is largely over. Revenues and earnings continue to outperform; many companies expect the positive momentum to continue through the second half of the year. The House is already on summer recess; the Senate will adjourn next week so legislative activity will pause until September. Trading activity will slow over the next few weeks as many investors enjoy their annual summer vacations. So, absent unexpected events or significant economic reports, market activity may be muted during this seasonally slow, end-of-summer period.
Source: Strategas and Pacific Global Investment Management Company
Last Week's Headlines
Another strong month of growth in the employment sector as there were 209,000 new jobs added in July. This follows the 231,000 new jobs added in June. Employment growth has averaged 184,000 per month thus far this year. Job gains occurred in food services and drinking places, professional and business services, and health care. The unemployment rate for the month was 4.3%, down from 4.4% in June. The average workweek was unchanged at 34.5 hours in July. Average hourly earnings rose by $0.09 to $26.36 in July. Over the year, average hourly earnings have risen by $0.65, or 2.5%.
Not unexpectedly, growth in consumer income and spending was essentially nonexistent in June. Pre-tax personal income and after-tax personal income were unchanged in June from May. Consumer spending, as measured by personal consumption expenditures (PCE), increased 0.1% in June. Core personal consumption expenditures (excluding food and energy) also increased 0.1% for the month. For the 12 months ended in June, the PCE was up 1.4%, while the core PCE has gained 1.5%. This report confirms that, entering the summer months, inflation is relatively flat and consumers are not seeing an increase in their income. Consumer spending, which accounts for roughly two-thirds of overall economic activity, has also stagnated.
The final report on the international trade in goods and services deficit for June showed the total trade deficit to be $43.6 billion, down $2.7 billion from May. June exports were $194.4 billion, $2.4 billion more than May exports. June imports were $238.0 billion, $0.4 billion less than May imports. Year-to-date, the goods and services deficit increased $26.7 billion, or 10.7%, from the same period in 2016.
The purchasing managers' index is a survey of selected companies relative to manufacturing output, new orders, inventory, employment, and prices. IHS Markit and the Institute for Supply Management (ISM) each put out a monthly index. The results of each survey are not always similar, as is the case for July. Markit's U.S. Manufacturing Purchasing Managers' Index™ (PMI™) registered 53.3 in July, up from 52.0 in June, indicating an increase in production. On the other hand, the ISM purchasing managers' index was 56.3%, down 1.5 percentage points from the June reading of 57.8%. It should be noted that a reading over 50% indicates growth, which means manufacturing expanded in July according to the ISM report, but at a slower pace than June.
According to the Institute for Supply Management's Non-Manufacturing ISM® Report On Business®, the non-manufacturing index slipped 3.5 percentage points in July to 53.9%. This represents continued growth in the non-manufacturing sector, but at a slower rate than in June. Survey respondents thought business activity, new orders, and employment decelerated while prices increased in July from June. The report covers industries such as accommodation and food services; utilities; wholesale and retail trade; real estate, rental, and leasing; health care and social assistance; and finance and insurance.
In the week ended July 29, the advance figure for seasonally adjusted initial claims for unemployment insurance was 240,000, a decrease of 5,000 from the previous week's revised level. The previous week's level was revised up by 1,000 from 244,000 to 245,000. The advance seasonally adjusted insured unemployment rate remained 1.4%, unchanged from the previous week's unrevised rate. During the week ended July 22, there were 1,968,000 receiving unemployment insurance benefits, an increase of 3,000 from the previous week's revised level. The previous week's level was revised up 1,000 from 1,964,000 to 1,965,000.
Eye on the Week Ahead
Trading should continue to be light as the summer rolls on. Both producer prices and consumer prices showed little upward movement in June. July's figures are not expected to change that much as reports on the Producer Price Index and the Consumer Price Index are out this week.
---