There was a growth scare in 3Q (especially in the U.S. and China), but as we move through 4Q growth looks to be reaccelerating. Yet price gains are continuing. U.K. CPI inflation rose to 4.2% y/y in Oct. The stagflation scare has morphed into a "sticky" inflation concern in numerous locations.
"A trio of policy makers – Vice Chairman Richard Clarida, Governor Christopher Waller and St. Louis Federal Reserve Bank President James Bullard – signaled … that the topic of a faster taper might be on the table when the Federal Open Market Committee meets Dec. 14-15" (Bloomberg). With demand remaining solid, the Fed is likely to increase the pace of the QE taper in early 2022, in our opinion.
Shelter Inflation Picking Up
One component of inflation which has fallen during the pandemic but has since recovered back to the pre-covid levels is shelter. This is important because it tends to be stickier than other components. The extent to which this continues to accelerate from current levels will likely draw more attention.
Active NYC Rentals With Discounts Have Plummeted
The death of urban areas like New York City was swiftly predicted with the arrival of the Covid-19 pandemic, but for now, it appears the NYC rental market is quite robust. In the early stages of the pandemic, we saw a sharp uptick in discounted active rental listings in an attempt to lure renters to the market. After peaking in 2H'2020, we've seen a sharp drop in rental listings offering discounts, likely indicating that the city is slowly returning to normal.
Consumer Confidence vs Sentiment Spread At Extreme
Rightfully so, investors and economists alike have been following the consumer, both in sentiment survey and behavior, to track the trajectory of the economic recovery. Recently, there has been handwringing on the divergence between the Conference Board Consumer Confidence data (higher) and the University of Michigan Consumer sentiment data (lower). The spread is at the upper bound of its historical range, and historically speaking, these divergences tend to normalize over time.
As Earnings Season Nears The End, We See Another Strong Quarter
With the 3Q earnings season nearing the end, it has been another strong reporting season for companies. Earnings growth is up more than +40%, and revenues are set to be up nearly 17%. As a result, this has been yet another quarter where reported results were significantly better than the initial estimates.
80% Of Companies Beating Estimates In 3Q
For the 3rd consecutive quarter, 80 percent of companies are beating estimates. While this is well above the historical average of 66%, this has fallen below the previous 4-quarter average of 85%. Over the coming quarter, we would expect this number to continue to fall as analyst estimates finally catch up.
Operating Margin Decline Signaling Caution
After an extraordinary move higher, the next 12-month estimated operating margins are turning sharply lower. After peaking in early October, they have moved lower over the last month, now standing at 17.1%. The extent to which the decline continues, investors should take note as it is the first fundamental blemish we have seen for companies as we approach year-end.
2022 Earnings Growth Rate Lowest Since Estimate Was First Reported
With 2021 earnings continuing to surprise to the upside, it appears to be borrowing from 2022 earnings, at least for the time being. 2022 EPS has remained relatively stable, around $220, while 2021 now sits around $205. The 7.7% growth rate that is currently estimated for 2022 is the lowest since the 2022 estimate was first reported back in April of 2020.
Source: Strategas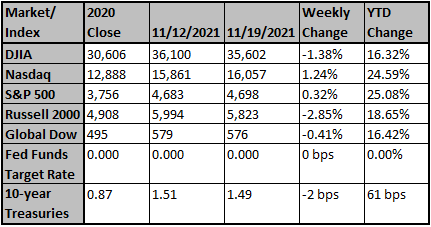 Chart reflects price changes, not total return. Because it does not include dividends or splits, it should not be used to benchmark performance of specific investments. Data provided by FactSet.
Sincerely,
Fortem Financial
(760) 206-8500
team@fortemfin.com
---
Latest News
Companies Face a Dilemma: Delay Office Reopenings Again, ...
As Covid-19 cases rise once again and U.S. authorities warn of a potential surge in infections this winter, employers find themselves questioning their approaches again.
The Wall Street Journal
Economy Week Ahead: Home Sales, Consumer Spending, Inflation
Minutes from the latest Federal Reserve policy meeting are also on deck in the coming days.
The Wall Street Journal
American inflation: global phenomenon or homegrown headache?
THE FRISSON of relief among some of America's most outspoken left-leaning economists is unmistakable. Whenever other countries report high inflation
economist
---