While it's hard to draw many conclusions from one of the lightest volume days of the year, we did find it notable that Friday's weakness was not accompanied with any internal pressure.  In fact, advancing stocks actually outnumbered declining stocks +1.3 to 1 on Friday, despite the S&P finishing lower on the day.  Collectively about 83% of the S&P is trading above its respective 50-day moving average – consistent with a market that is likely short-term overbought, but more importantly, a reflection of momentum present under the surface.  It's no secret that seasonality begins to wane as the dog days of August approach, and very low put/call ratios also increase the likelihood of a pause or consolidation in the near-term, but we remain inclined to view weakness as buyable.  The relative weakness from the Transportation stocks remains the biggest leadership blemish in our work, but the recent improvement in groups like Financials (Banks in particular) helps to fill the void.  84% of the Financials sector is back above its 200-day moving average, the best reading in roughly 16 months.
Q2 Earnings announcements start later this week so we will see how the market digests the news.
Source: Strategas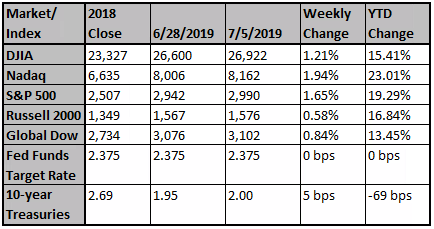 Chart reflects price changes, not total return.  Because it does not include dividends or splits, it should not be used to benchmark performance of specific investments.
---
Latest News
Last Week's Headlines: 7/8/2019
1. May survey data signalled only a marginal improvement in the health of the U.S. manufacturing sector. The headline PMI fell to its lowest level since September 2009 as output growth eased and new orders fell for the first time since August 2009. Weak demand conditions and ongoing trade tension...
How Automation Is Cutting Into Workers' Share of Economic...
Technology didn't depress wages-until it did. The hidden story in one macroeconomic indicator could explain why.
Are Strong Jobs Really Bad For Stocks?
Stocks sold off on Friday despite the stronger than expected jobs report. Many apparently fear higher rates more than they do a weak economy. With this backdrop can stocks still stage a m...
Kudlow says US-China trade talks to be held in person as ...
Kudlow later backed away slightly from his timeline, saying that the face-to-face talks would begin "soon" and that an announcement would be forthcoming.
---