Spring is in the air and with it comes hope in the fight against Covid-19.
We have attached a data sheet to this email that shows the progress that has been made in the US on Covid-19. The infection rate, hospitalization rate, and most importantly, the death rate are all falling rapidly. In the US, there have already been more than 95 million doses of Covid-19 vaccines administered, and the CDC estimates that we already have over 60% of the US population immune to Covid-19.
With improving Covid data, the country's path to reopening looks clear. Although some countries around the world have had a slower start to their vaccination programs, we expect they will resolve those issues and move towards reopening their borders to travelers later in 2021. We pulled the table below from the Wall Street Journal this morning showing the top countries for vaccines administered as a percent of their population.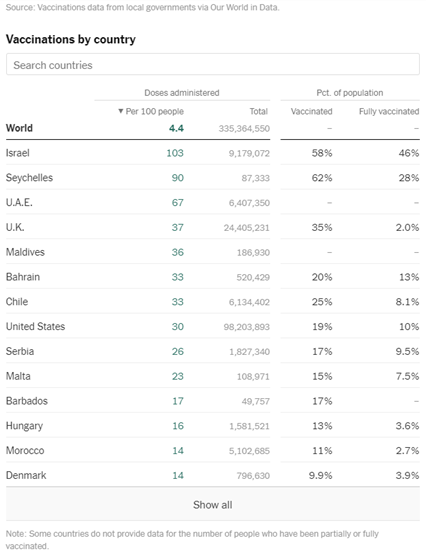 Please call us or email us with any questions.
Sincerely,
Fortem Financial
(760) 206-8500
team@fortemfin.com
---
Latest News
Covid-19 Tracker - March 9 2021
Mar 12, 2021
---