The indices rose last week on the strength of the signing of Phase One trade agreement with China, the Senate's passage of the USMCA agreement, positive economic reports and a good start to earnings season. The Russell 2000® Index (2.53%) led the major indices, followed by the Nasdaq (2.29%), the S&P 500® Index (1.97%) and Dow Jones Industrial Average (1.82%). On Wednesday, the U.S. and China signed the Phase One agreement; details of the deal address several long-standing concerns by the U.S. about Chinese trade practices and includes a commitment for a $200 billion increase over the next two years of U.S. goods. The agreement calls for China to develop an 'action plan' within 30 days to implement new obligations regarding intellectual property rights. President Trump commented, "We're leaving tariffs on [$250 billion of Chinese products], but I will agree to take those tariffs off if we are able to do 'Phase Two.' In other words, we're negotiating with the tariffs." The next step, negotiations for a phase two agreement, will focus on Chinese business practices. The trade détente provides a welcome relief after eighteen months of trade tensions. Also, last week, the U.S. Senate approved the USMCA agreement; President Trump will likely sign the Agreement this week. This reset in trade between the U.S., Mexico and Canada updates the 25-year old NAFTA agreement to address current business and political concerns.
Fourth quarter earnings season started well with better-than-expected results; in particular, JPMorgan Chase, Citigroup, and Morgan Stanley cited higher trading revenue and strong consumer spending which reflect the overall strength of the U.S. economy. James Dimon, CEO of JPMorgan Chase, commented that consumer "wage growth is up. Their home values are up. And the amount of the income they have that goes to servicing interest expense is as low as it's been in 50 years." A positive "glass half full" sentiment bolstered Kansas City Southern's stock despite earnings which missed expectations; apparently the combination of the USMCA agreement, strong revenue growth and continued improvement in operating efficiency carried the day. Delta Airlines reported higher-than-anticipated revenue and earnings due to increased business and leisure traffic.
Last week's release of China's improved economic data, including industrial production, fixed asset investment and retail sales, suggest a recovery following its recent downturn. Economists also believe that growth in the euro zone has turned positive. Certainly, the de-escalation of trade tensions should improve trade and provide a global growth stimulus.
The impeachment trial got underway with the presentation of the Articles of Impeachment to the Senate on Wednesday; on Thursday, following the swearing in of Chief Justice Roberts, he swore in the Senators in anticipation of this week's commencement of the actual trial. To date the lack of market response suggests that the Senate will not vote for impeachment. Looking ahead, investors will refocus away from trade concerns to fourth quarter earnings results, corporate outlooks and economic data. This week, reports from a mix of large, mid- and small cap stocks will likely determine investor momentum for the next few week.
Source: Pacific Global Management Investment Company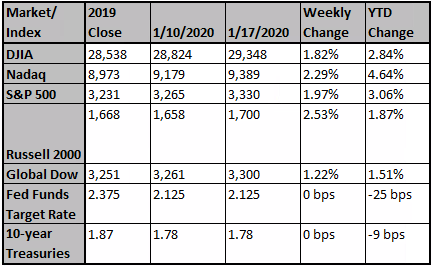 Chart reflects price changes, not total return. Because it does not include dividends or splits, it should not be used to benchmark performance of specific investments.
Sincerely,
Fortem Financial
760-206-8500
team@fortemfin.com
---
Latest News
U.S. Consumer Sentiment Remained Elevated at Beginning of...
U.S. consumer sentiment remained elevated in January as record stock prices and a strong job market buoy Americans, suggesting spending will continue
Earnings Watch: Netflix, Intel and IBM set to enter battl...
The earnings reporting rush is about to hit, giving investors an early indication of whether the earnings recession continued in the final quarter of 2019.
'The next frontier in tech policy:' IBM pushes business t...
The IBM recommendations call for companies to work with governments to develop standards on how to make sure, for instance, that African-Americans are guaranteed fair access to housing.
---