Last week you heard a lot about the longest bull market in our countries history. The Purest definition of a bull market is "a market advance without a pull back or sell of greater than 20%". We do not necessarily agree with the "longest bull market" headlines from last week. Both 2011 and 2015 witnessed massive drawdowns at the stock level with over 70% of issues down 20% in 2011 and 63% during 2015. The Russell 2000 was down by 30% and 27% in each respective year and global equities also endured severe pullbacks during these times. While the S&P may not have reached the -20% threshold, in many ways the bar was reset around the globe. It's also worth noting that the S&P did not outperform bonds until late 2016. By that measure, the bull market is barely 2 years old! Based on current economic indicators we believe the market still has room to run to the upside.
A US/Mexico deal was announced today and the market was up today. Negotiators are targeting 2 weeks of Canada talks before finalizing a deal. We should know more about the deal as the details are released in the days to come.  What's been announced so far would require 75% of the parts in any car sold in North American to be produced in the US or Mexico.  It would also require that 40-45% of auto parts in cars sold be made by workers earning at least $16/hour.  Negotiations with Canada will now begin.  Once a new deal is reached, the agreement will need to be evaluated by the US trade agencies and presented to Congress for a vote.
The equity markets continued to rise last week while U.S. Treasuries fell below 3%.  The Russell 2000® Index (+1.93%) led the major indices, followed by the Nasdaq Composite, S&P 500® and Dow Jones Industrial Average with gains of 1.66%, 0.86% and 4.7%, respectively.  With last week's gains, most people believe the current bull market became the longest on record.  Also, the S&P 500®, Nasdaq Composite and the Russell 2000® achieved record highs this week. The most important news event was likely a speech by Federal Reserve Chairman Powell; he indicated that, despite strong economic growth, the Fed would continue its policy of gradual interest rate increases.  
Trade discussions continue with Canada, the EU and China and will probably pick up steam now that the US and Mexico have reached an agreement. The U.S. implemented the previously announced $16 billion in tariffs on Chinese imports; the Chinese reciprocated.  China's tariffs do not include oil imports; the exclusion is likely due to the lower price of U.S. oil and the potential November disruption with the resumption of the U.S. ban on Iranian oil.
Several retailers announced second quarter results last week.  Target reported its best comparable sales results in thirteen years on strong in-store and e-commerce spending; the company increased sales estimates for the year.  Notably, Walmart, Foot Locker and Nordstrom are among many retailers that posted higher quarterly sales results. The fear that Amazon would make brick and mortar stores irrelevant appears overblown as retailers have improved e-commerce initiatives. The convenience of in-store pick up and return servicing has increased store traffic; also, many have adopted pricing policies to compete favorably with Amazon's vendors.  Moreover, the stronger economy is also giving consumers more confidence to increase spending on an array of goods.
Overall, August has been a relatively quiet month with low trading volumes still moving the indices higher. The Russell 2000® continues to gain on the year-to-date leader, the Nasdaq, as investors find greater value in smaller cap companies.  Nearing the end of summer, in what is usually considered a slow time of the year, the equity markets have delivered strong performance.
Source: Pacific Global Investment Management Company, Bob Doll - Senior Portfolio Manager at Nuveen Asset Management.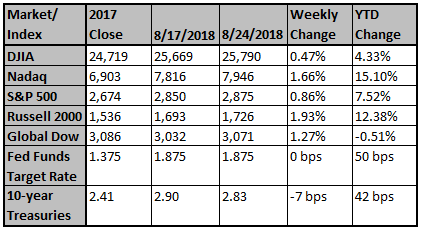 Chart reflects price changes, not total return.  Because it does not include dividends or splits, it should not be used to benchmark performance of specific investments.
---
Latest News
Walt Disney World Agrees to Raise Its Minimum Wage to $15
After more than a year of protests and negotiations
$1.5 trillion of student loan debt has transformed the Am...
Forget the white picket fence. Forget the house and family. Forget taking a job for love rather than money. Retirement? Keep dreaming. A decade after
Gold and platinum aren't so shiny anymore
Precious metals are losing their shine. Despite turmoil in emerging market economies and a burgeoning US-China trade war, the metals that traditionally serve as haven
---