The equity markets ebbed and flowed last week on reports of a Phase One trade agreement between the U.S. and China. On Friday, the White House confirmed earlier rumors of an agreement; the markets' muted reaction reflects the lack of specifics and modest scope of the deal. More details are coming out today and looks like the markets are welcoming the news. Last week, the Nasdaq (0.91%) led the market gains followed by S&P 500® Index (0.73%), the Dow Jones Industrial Average (0.43%) and Russell 2000® (0.25%).
The China deal cancels the 25% tariff on $160 billion of Chinese good scheduled for Sunday; tariffs remain in place on $370 billion of imports ($250 billion at 25%, and $120 billion at a reduced 7.5% rate). China agrees to purchase an extra $200 billion in U.S. agricultural, energy and manufactured products over the next two years, and better police counterfeiting, patent and trademark violations. The agreement includes snap back provisions to re-impose tariffs due to unresolved disputes. President Trump stated that Phase Two negotiations would begin immediately.
The same day the Democrats controlling the House of Representatives announced their impeachment of the President they agreed to approval of amendments to the USMCA pact; after months of negotiations, the trade deal may be approved in the House before the end of the year. On Thursday, the United Kingdom overwhelmingly elected a Conservative majority in the House of Parliament; the unassailable victory for Prime Minister Boris Johnson paves the way to finalize Brexit. The win, the largest margin of victory since 1987, handed the Labour Party its largest loss since 1935.
On Wednesday, the Federal Reserve, announced no rate changes, and the expectation for no rate cuts in 2020. The Phase One trade agreement, which should remove uncertainties for businesses investments, may help stimulate economic growth in 2020. Early estimates suggest that the equity markets may continue to rise into 2020; for example, JP Morgan projects an approximate gain of 7% for the S&P 500® next year.
The potential easing in the trade wars and Brexit may provide an optimistic outlook entering 2020.
Source: Pacific Global Investment Management Company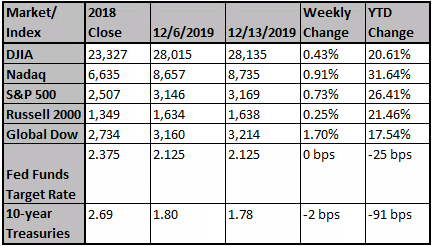 Chart reflects price changes, not total return. Because it does not include dividends or splits, it should not be used to benchmark performance of specific investments.
Sincerely,
Fortem Financial
---
Latest News
Stocks add to gains as trade deal-fueled rally continues
Stocks surged after President Trump said the U.S. was getting close to a "big deal" with China.
China delays tariffs on US autos, other goods in trade deal
Washington has agreed to postpone a planned tariff hike and to cut current tariffs.
Europe Markets: European stocks on track to set new recor...
European stocks on Monday advanced to a level that would put them at a new record high, gaining ground in a broad-based rally.
---