Stocks rallied again last week (S&P 500 +4.3%) for the third week in the past four helped by continued better than feared earnings (especially big technology companies), declines in bond yields, and valuation improvement. Best sectors were energy (+10.4%) and utilities (+6.5%); worst sectors were consumer staples (+1.6%) and healthcare (+2.0%).
2Q Aggregate Earnings & Sales Growth Improving
Last week, more than 150 companies reported earnings, and overall results continued to show signs of improvement for the second quarter. S&P earnings growth now stands at 7.7%, up from 6.2%, with revenue growth moving higher to 12.1%. Energy continues to be the standout sector for profits masking weakness in important sectors like discretionary and technology.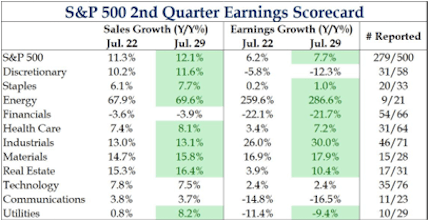 Cost Inflation Still Elevated, Some Companies Maintain The Ability To Pass It Along
As we wrote last week, cost inflation remains a recurring theme during the reporting season. Some companies are discussing how they were able to pass along the higher costs by raising prices, but there are much fewer of those than the ones that are absorbing them. We will be interested to see if this ability remains should unemployment claims continue to rise.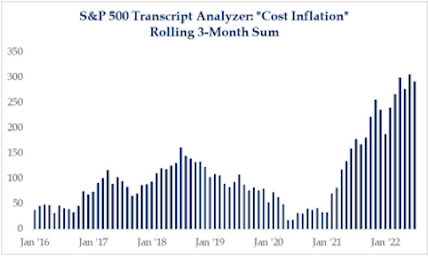 Operating Margins For The Next Twelve Months Falling
Operating margins which had been holding up at 17% moved lower last week and now stand at 16.8%. Still elevated by all accounts but directionally moving the wrong way. Historically this has been a negative sign for equities and seldom do markets move considerably higher when margins are deteriorating.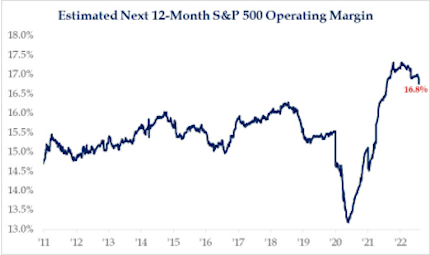 2023 Estimate Revised Sharply Lower Following Earnings Last Week
The 2023 EPS estimate accelerated lower last week and now sits just below $246. We've been of the view for some time that 2023 EPS estimates are too high and still remain of that view. If it weren't for the outsized profits of energy, the profit outlook would look much worse. Tech remains the largest contributor to overall earnings and without an improvement for the sector, earnings growth will likely stall.
Source: Strategas
Sincerely,
Fortem Financial
(760) 206-8500
team@fortemfin.com
---
Latest News
The Stock Market Is Rallying. Here's What Could Make it T...
The S&P 500 has gained 13% since its lowest close of the year in mid June, while the Nasdaq Composite is up 16%,
Barrons
Dow Jones Newswires: Eurozone manufacturing downturn wors...
The S&P Global eurozone manufacturing PMI fell below the crucial 50.0 mark in July to 49.8 from 52.1 in June, the first contractions for just over two years.
MarketWatch
If This Is a Recession, We Might Not Know for Months
The economy's second-straight decline in output sparks debate-and the waiting game.
The Wall Street Journal
---