Second Quarter Earnings Better Than Expected In Aggregate…
With over 90% of companies reporting earnings for the second quarter, aggregate EPS growth of 9.7% for the S&P 500 is well above the original estimates of 5.6%. The energy sector provided a significant boost; however, 8 of the remaining ten sectors also beat their initial estimates. In addition, revenue growth of 13.7% was also better than expected.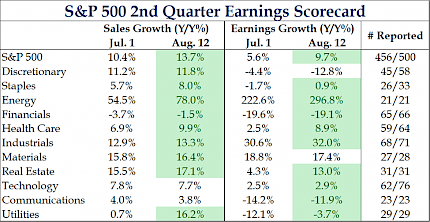 …But 2023 Earnings Per Share Estimate Being Revised Lower
In our opinion, the bigger story for the reporting season is the weakening outlook for 2023 earnings. The latest estimate now stands at $243.79, which is down from its peak of $252.03 but remains roughly $10 more than we anticipate. The pace of the decline is likely to slow until the next reporting season unless negative pre-announcements begin to accelerate.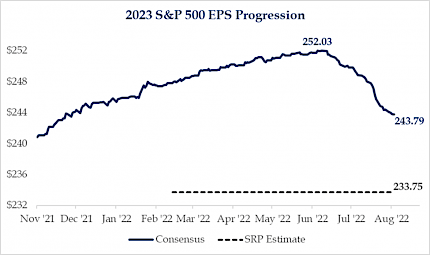 Margins Stabilizing At 16.8% For Now
Undoubtedly operating margins have rolled over based on estimates for the next twelve months, but it is welcomed news that we have seen some stabilization at 16.8% over the past few weeks. We continue to believe that margins will have to come down further as inflation bites corporate margins from input costs to labor costs. The current levels appear to be unsustainable longer term. Even a company like Microsoft is tightening its belt with cuts being made to T&E.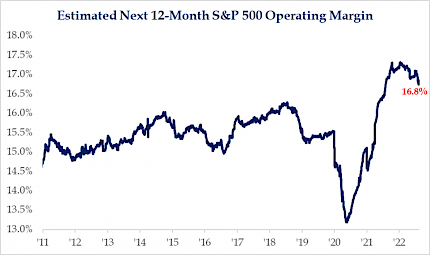 Number of Price Target Cuts Rolling Over
On a positive note, the number of companies with lower analyst price targets has rolled over dramatically, suggesting that, at least for now, analysts expect most of the negative news to be priced in. Moreover, over the last 10+ years, these data have rolled over at points where the market reached a notable bottom. So perhaps the current rally may have some legs before tighter monetary policy slows the economy.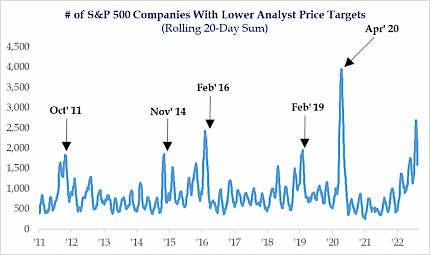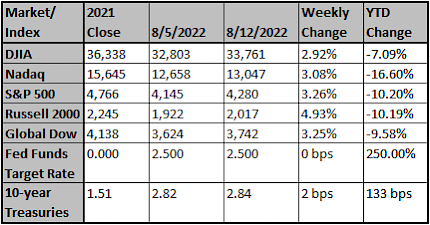 Source: Strategas
Chart reflects price changes, not total return. Because it does not include dividends or splits, it should not be used to benchmark performance of specific investments. Data provided by Refinitiv.
Sincerely,
Fortem Financial
(760) 206-8500
team@fortemfin.com
---
Latest News
Much Anticipated Quarterly Reporting For Target, Walmart
Investors and retail industry watchers are anticipating next weeks second quarter financial results for both Walmart and Target on August 16th and 17th respectively.
Forbes
Stock Futures Fall as China's Economy Slows
Stock futures and commodity prices fell as slowing growth in China raised concerns about the global economy and demand in the world's biggest consumer of raw materials.
The Wall Street Journal
Tech companies shed workers even as the talent shortage r...
Layoffs and hiring slowdowns have been the top talking points from tech leaders on earnings calls over the past few weeks. Then there was last week's
CNBC
---